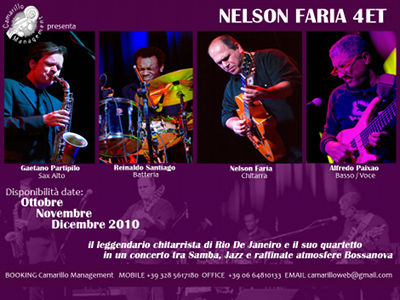 http://www.myspace.com/n.faria
31 Agosto 2010
Nelson Faria 4ET
Riporto di seguito le notizie su Nelson Faria per quanti ne fossero interessati:
Nelson Faria è nato in Brasile a Belo Horizonte nel 1963.
Diplomato al prestigioso G.I.T. (Guitar Institute of Technology, Los Angeles, USA) nel 1984 ha studiato con Joe Diorio, Joe Pass, Ron Eschete, Howard Roberts, Scott Henderson e Frank Gambale; a L.A. ha anche studiato privatamente armonia con Ted Greene.
Tornato in Brasile, dopo il diploma, è diventato uno dei più apprezzati chitarristi e didatti alternando ai concerti anche workshop, clinics, seminari e turni di registrazione.
Come didatta ha insegnato per 12 anni alla 'Universidade Estàcio De Sa' di Rio De Janeiro e ha tenuto clinics di chitarra brasiliana presso: Berklee College of Music, Boston, MA (2001 and 2002), IAJE /2001 (International Association of Jazz Educators), New York, NY; University of Southern California, Los Angeles, CA; San Francisco State University, San Francisco, CA; Guitar Institute of Technology, Los Angeles, CA; Göteborgs Universitet, Goteborg, Sweden; Manhattan School of Music, New York, NY; Codarts Conservatory (Rotterdam, NL), Amsterdam Conservatory (Amsterdam, NL), Malmo Universitet (Sweden), Stockholm Royal Institute of Music (Sweden), Universidade Federal de Ouro Preto- Brazil, ABEM (Associação Brasileira de Educação Musical, Rio de Janeiro, Brazil), Curso Internacional de verão de Brasília, Oficina de MPB de Curitiba.
Ha suonato in oltre 150 dischi di artsiti brasiliani e non solo ed ha tenuto concerti in, Argentina, Giappone, Israele, Indonesia, Malaysia, USA, Canada, Angola, Portogallo, Spagna, Francia, Svizzera, Germania, Svezia, Norvegia, Danimarca, Finlandia, Lituania, Inghilterra, Turchia, Olanda, Austria, Macedonia, Bosnia, Malta, Slovenia, Estonia, Colombia, Repubblica Dominicana ecc..
Ha suonato con artisti come João Bosco, Till Broenner, Ivan Lins, Gonzalo Rubalcaba, Lisa Ono, Milton Nascimento, Josee Konning, Karolina Vucidolac, Cássia Eller, Baby do Brasil, Zélia Duncan, Paulo Moura, Toninho Horta, Fatima Guedes, Leila Pinheiro, Wagner Tiso tra gli altri. Nonostante la propria notorietà, Nelson Faria, rimarrà sempre un instancabile studente, infatti nel 2001 aderisce al Workshop Jazz 'BMJ' sotto l'egida del Ministero della Cultura del Governo Brasiliano perfezionandosi ancora con Manny Albam, Jim McNeely e Michael Abene.
Ha collaborato come Arrangiatore ed 'Ospite Speciale' con 'The Orquestra Jazz Sinfonica' (SP), KMH Jazz Orchestra (Stockholm), CODARTS Jazz Orchestra (North Sea Jazz festival 2007), Orquestra Bons Fluidos (abril cultural), UMO Jazz Orchestra (Finland), Hr-Bigband (Germany), Frost Jazz Orchestra (MiamiUniversity) ecc..
Nelson Faria ha 7 dischi a suo nome:
• "Ioiô" (Independent, 1993),
• "Beatles, a Brazilian Tribute" -w/ pianist José Namen (solo music, 1998),
• "Janelas Abertas" – w/ singer Carol Saboya (lumiar discos, 1999),
• "Três/Three" – w/ bassist Nico Assumpção and drummer Lincoln Cheib
(Independent, 2000).
• "Nelson Faria" – (Independent, 2003).
• "Vento Bravo" – w/ Nosso Trio (Delira Musica, 2005).
• "Buxixo" – w/ pianist Gilson Peranzzetta (Delira Musica 2009)
2 DVDs:
• Toques de Mestre (Giannini SA, Instructional, 1990)
• Nosso Trio Live – (Delira Musica, 2006).
6 educational books:
• "A arte da improvisação" (Lumiar ed. 1991),
• "The Brazilian Guitar Book" (Sher music Co. 1996 Arikita Music Japan 2003) ;
• "Escalas, Arpejos e Acordes para violão e guitarra" (Lumiar Ed.1999)
• "Inside The Brazilian Rhythm Section" w/ Cliff Korman (Sher music Co. 2002
ATN Japan 2003)
• "Toque Junto – Bossa Nova" (Lumiar ed. 2008)
• "Harmonia Aplicada ao Violão e à Guitarra" (Nelson Faria prod. Mus. 2009)
Per info:
- e-mail:
- http://www.myspace.com/n.faria
Video:
- http://www.youtube.com/watch?v=UiRdFJAvvzk